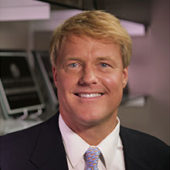 Kevin Pauza, M.D.
Founding Partner,
Texas Spine and Joint Hospital
SPECIALTY
Disc Biologics
Interventional Spine
EDUCATION & DEGREES
Fellowship: Interventional Spine, University of Pennsylvania
Residency: PM&R, University of Pennsylvania
Internship: Surgery & Medicine, Columbia University College of Physicians and Surgeons
Medical Doctorate: Pennsylvania State University College of Medicine
Bachelor of Arts: Biology, Lehigh University
Bachelor of Arts: Psychology, Lehigh University
CERTIFICATIONS & LICENSES
American Board of Physical Medicine and Rehabilitation Certification
Texas State Medical and Surgical License
New York State Medical and Surgical License
HONORS
Lehigh University Four-year Academic Scholarship
Magna Cum Laude, Lehigh University
Lehigh University President's Award
Lehigh University Tower Society
Distinguished Alumnus, Penn State University (selected from 500,000 Penn State alumni)
North American Spine Society, Outstanding Paper of the Year, 2003
President-Elect, International Spine Intervention Society
Founding Partner, Texas Spine and Joint Hospital
Commencement Speaker: Penn State University College of Medicine
Advisory Board, AMA
Keynote Speaker, Harvard Pain Center Commencement
Founding Chairman, Standards Committee, International Spine Intervention Society
Chairman, Spine Committee, Amercian Academy of Physical Medicine & Rehabilitation
Appointed Spine Advisor, Japanese Prime Minister
Appointed Spine Advisor, Allied Royal Families
EXPERIENCE
Founding Partner & Principal, Texas Spine & Joint Hospital
TRAINING
Prior to attending Penn State University, Dr. Pauza earned his undergraduate degree from Lehigh University, and furthered his training with a Surgical and Medical Internship at Columbia University College of Physicians and Surgeons. He continued his specialty training at the University of Pennsylvania, followed by an Interventional Spine Fellowship. In addition to his research, philanthropic, and clinical endeavors, Dr. Pauza remains a motivated educator. He established a Spine Fellowship program and continues training physicians from around the world. He heads international committees responsible for establishing standards and educating surgical and non-surgical physicians.
Listed in Alphabetical Order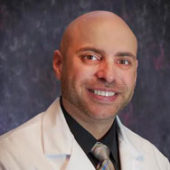 Jason Berk, M.D.
Thomas Jefferson University Hospital
Dr. Jason Berk was born and raised in the greater Philadelphia area. He received his Bachelor of Arts degree from the University of Pennsylvania where he graduated Summa Cum Laude. He remained in Philadelphia to obtain his M.D. from the University of Pennsylvania in 2008. He then went to Thomas Jefferson University Hospital in 2012 to complete his residency in Physical Medicine and Rehabilitation where he was a chief resident. Following residency, Dr. Berk completed a Pain Medicine Fellowship at The University of California Los Angeles. Dr. Berk is PA Board Certified in both Physical Medicine and Rehabilitation, as well as Pain Medicine. He is an active member of The American Academy of Physical Medicine and Rehabilitation and the Spine Intervention Society.
Dr. Berk specializes in conservative, minimally invasive management of spine and musculoskeletal disorders. He believes strongly in treating people as individuals, developing customized treatment plans to address specific needs. In addition to his patient care at Aligned Medical Group, Dr. Berk is a professor at Thomas Jefferson University where he takes part in the training of future generations of Physicians.
Outside of practicing medicine and teaching, Dr. Berk enjoys working out, playing sports, watching his hometown sports teams, and spending time with his family and friends. These days, he is also kept busy by his miniature golden retriever, Sidney.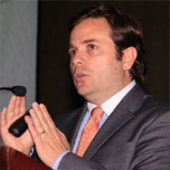 Diego Correa, M.D., M.Sc., Ph.D.
Scientist/Assistant Professor,
University of Miami
Diego Correa, M.D., M.S.c, Ph.D. received an M.D. from Pontificia Universidad Javeriana (Bogotá – Colombia); an M.Sc. in Mechanical Engineering from Universidad de Los Andes (Bogotá – Colombia) obtaining the Engineering School Fellowship for academic and research excellence; and a Ph.D. in Cellular and Molecular Physiology from Yale University/Harvard University where he received a full scholarship and was recipient of the George Robert Pfeiffer Fellowship from the Gustavus and Louise Pfeiffer Research Foundation for excellence. In 2009, he joined the laboratory of Professor Arnold Caplan at the Skeletal Research Center – Case Western Reserve University (Cleveland, OH), where he led the projects related with the Biology of adult Mesenchymal Stem Cells (MSCs) and their use in the areas of Articular Cartilage Tissue Engineering, and the description of their role as gatekeepers controlling the process of distant Cancer Metastasis.
Dr. Correa currently holds a joint appointment as Assistant Professor (Research) between the Dept. of Orthopaedics (Division of Sports Medicine) and the Diabetes Research Institute at the University of Miami, Miller School of Medicine, and an Adjunct Assistant Professor appointment at the Dept. of Biology at Case Western Reserve University, where he continues interacting with Professor Arnold Caplan. Dr. Correa is an expert in Mesenchymal Stem Cells (MSCs) biology and their potential clinical applications in Regenerative Medicine. His Laboratory focuses on various topics including: the identification of functional distinct phenotypic subpopulations of MSCs from bone marrow and adipose tissue, and how these "signatures" impact their performance as cell progenitors, immunomodulators and trophic effectors; how they communicate to each other (e.g., through secreted exosomes) during tissue injury and repair; and the derivation of potential therapeutic applications, using both in vitro and in vivo models, during islet cell transplantation in type 1 Diabetes and in joint-related inflammatory and degenerative diseases.
Dr. Correa holds various patents submissions; is author and co-author of a significant number of scientific publications in recognized journals; serves on the editorial board and as peer reviewer of various recognized scientific journals; serves as formal reviewer for scientific institutions both nationally (e.g.: California Institute of Regenerative Medicine – CIRM) and internationally (National Medical Research Council of Singapore); and is a frequent invited speaker and lecturer in national and international scientific and medical meetings. Dr. Correa also participates in diverse entrepreneurial activities, such as the creation and evaluation of private start-up companies in the areas of Regenerative Medicine and adult stem cell-based therapy. He also participates in various Scientific Advisory Boards in companies within the Regenerative Medicine field in USA and abroad.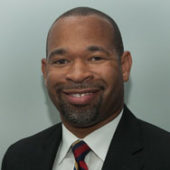 John Ferrell III, M.D.
Director of Sports Medicine,
Regenerative Orthopedics and Sports Medicine
Team Physician
Washington Spirit
Dr. John Ferrell is a board certified Family Medicine Physician with an added specialty certification in Sports Medicine and Musculoskeletal Sonography. He is currently a Team Physician for DC United. As a native Washingtonian he has lived in the D.C. Metro area for the majority of his adult life. After high school, he attended the University of Maryland, Baltimore County (UMBC) where he received his undergraduate degree. Upon completion of his studies at UMBC, Dr. Ferrell went on to study medicine at The Pennsylvania State College of Medicine where he received his medical degree. His intern year was performed in General Surgery at the Milton S. Hershey Medical Center before spending four years in the Navy taking care of sailors and their families. After serving a four year stint in the Navy, he completed his Family Medicine training at MedStar Franklin Square Medical Center in Baltimore, where he served as Chief Resident. Dr. Ferrell then completed his Sports Medicine Fellowship at Fairfax Family Practice in Fairfax, Virginia. During his fellowship, he was afforded the opportunity to work in the Washington Nationals' and Redskins' training rooms and served as a Team Physician for George Mason University. Also during his fellowship, he received intensive training in ultrasound diagnostics of musculoskeletal injuries and regenerative medicine injections.
With Dr. Ferrell's training in Family Medicine, he believes in a holistic approach to the musculoskeletal system. Therefore, he feels that the body needs to be treated as one entity instead of having each joint managed by different providers. He has trained in martial arts and earned his black belt in Tae Kwon Do. During that time he dealt with various injuries, which allows him to empathize with his patients.
Dr. Ferrell's special interests include non-surgical management of orthopedic problems, regenerative medicine (especially using Platelet Rich Plasma (PRP)), concussion management and exercise prescription for patients who want to increase their fitness.
Education and Training
Medical School: The Pennsylvania State College of Medicine
Residency: Franklin Square Hospital
Speciality Training: Sports Medicine, Fairfax Family Practice
Clinical Expertise: Platelet Rich Plasma, Performance Optimization, Concussion Management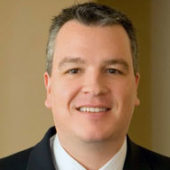 Todd Malan, M.D.
Medical Director, Center for Regenerative Cell Medicine,
Innovative Cosmetic Surgery Center and Roxbury Regenerative
Todd Malan, M.D., founder of the Innovative Cosmetic Surgery Center, is one of the most coveted names in cosmetic surgery. By providing patients alternatives to traditional cosmetic surgery through procedures such as SmartLipo, Dr. Malan has secured a spot at the forefront of the industry. He has formed associations with some of the world's leading physicians, educators and technological companies to bring his patients the most advanced procedures. Dr. Malan's dedication to the industry, as a surgeon, educator and innovator, is evident in his respected surgery center, technological contributions to the industry, loyal patient following and peer recognition.
Dr. Malan is the pioneer of the Stem Cell Enhanced Natural Breast Augmentation, which combines the most progressive methods in water assisted liposuction, fat transfer and stem cell technology. He was the first physician in the U.S to perform this procedure and currently educates professionals on this breakthrough through personal training and speaking engagements.
Dr. Malan received his Bachelors Degree from Brigham Young University and continued his studies at the University of Arizona College of Medicine where he graduated in the top 10 percent of his class in May 1993. He completed his residency at Walter Reed Army and Bethesda Naval hospitals in Washington, D.C. Dr. Malan is board certified in Obstetrics and Gynecology. Presently, Dr. Malan is an associate of the American Academy of Cosmetic Surgeons, founding member of the American Academy of Cosmetic Physicians, member of the California Academy of Cosmetic Surgery and American Academy of Anti-Aging Medicine.
Dr. Malan is a nationally recognized speaker and educator on advanced body sculpting, fat transfer and a leading innovator on adipose derived stem cell therapies. He is a frequent guest speaker for organizations such as the American Academy of Cosmetic Surgery, American Society of Cosmetic Breast Surgery and the American Academy of Anti-Aging Medicine. Dr. Malan also trains physicians worldwide on this procedure and has been featured in media for his recent advances to modernize Fat Transfer Techniques. His practice is fully dedicated to aesthetic cosmetic procedures and he is regarded as the pioneer of laser body sculpting and now Stem cell enhanced natural breast augmentation in the United States.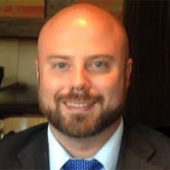 Matthew Murphy, Ph.D.
University of Texas
Dr. Matthew Murphy is a regenerative medicine scientist and engineer from Austin, Texas. He earned his bachelors degree in chemical engineering from the University of Texas at Austin and his PhD in biomedical engineering from Rice University. He has worked as a NASA space suit design engineer and as a lead scientist for the DARPA sponsored "Fracture Putty" wounded warrior regenerative medicine project. For the past six years he served as the R&D director for Celling Biosciences with focus on designing and testing devices for concentrating autologous stem cells and biomaterials for repairing orthopedic injuries. In 2017, he founded Murphy Lifescience as a consulting firm to foster collaboration between physicians and scientists in developing biotechnology and conducting and publishing clinical studies.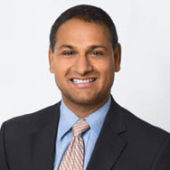 Rowan Paul, M.D.
Primary Care Sports Medicine, California Pacific Orthopedics and Sports Medicine
Clinical Assistant Professor, Dartmouth Geisel School of Medicine
Team Physician, SF Ballet /Oakland A's
Dr. Rowan Paul is a fellowship trained sports medicine physician and a board certified family physician who treats athletes and active people of all ages. He has treated everyone from recreational to professional athletes, and is currently a team physician for the Oakland Athletics and San Francisco Ballet. In the past, he has covered high profile events such as World Cup speed skating, alpine, snowboarding championships, numerous marathons, and the U.S. Olympic development Nordic cross country skiing team.
Dr. Paul specializes in minimally invasive regenerative medicine. He specializes in non-operative treatment of the hip, shoulder, knee, ankle, foot and spine. He performs many high resolution ultrasound guided diagnostic and therapeutic procedures to alleviate pain and promote healing. He is an expert in treating chronic refractory tendon problems, and has successfully treated his patients using innovative treatment options such as Platelet Rich Plasma, Dextrose and specific physical and manual therapies. He has an academic interest in the use of Bone Marrow Aspirates and Mesenchymal Stem Cells for regenerative of tendons, ligaments, cartilage and soft tissue.
Dr. Paul also performs ultrasound guided micro-invasive tendon/fascia debridements including but not limited to the achilles, plantar fascia, rotator cuff, patellar and iliopsoas tendons. He also specializes in innovative carpal tunnel, cubital tunnel and occipital nerve hydrodissections, a potential treatment alternative to surgical nerve releases. Dr. Paul has training in exercise prescription, running gait analysis, bicycling performance optimization, diagnosis and treatment of sports hernia (athletic pubalgia) and hip problems such as femoral acetabular impingement.
Dr. Paul is also interested in injury prevention, international medicine and is a current regular team member of Operation Rainbow, a non-profit humanitarian orthopedic surgical trip to Central and South America. He has travelled on humanitarian trips as well to Honduras, India, Nepal, and Venezuela. His goal is to have all his patients be physically active so they can live a healthier, more productive life, with a focus on preventive health.
Dr. Paul enjoys teaching and is a Clinical Assistant Professor of Dartmouth College Geisel School of Medicine. He also teaches residents and fellows from UCSF and CPMC.
Dr. Rowan Paul has presented and published at national sports medicine conferences and journals. He has received numerous awards including the "Top Doctor," on the innovative health site, Health Tap. On Health Tap, he is a leading Sports Medicine contributor and a founding medical expert. He has also been featured on "Health Radio", "Women's Health Daily Site" and "Experience Life Magazine." He was born and raised in Toronto, Canada, and migrated to America for his undergraduate degree at Brown University, where he was a division one varsity swimmer. He continues to be an active runner, cyclist, triathlete, marathon runner, martial artist, skier, snowboarder, yoga practitioner and outdoorsman.
EDUCATION
Bachelor of Science, Brown University
MD, Brown University Medical School: Albany Medical College Family Medicine
Residency, Stanford University School of Medicine/O'Connor Hospital Primary Care Sports
Fellowship, University of Utah Health Sciences Center
SPECIAL EXPERTISE
Minimally invasive regenerative medicine
Primary care sports medicine
Carpal tunnel, cubital tunnel and occipital nerve hydrodissections
Ultrasound guided micro-invasive tendon/fascia debridements
PROFESSIONAL AFFILIATIONS
American Medical Society for Sports Medicine (AMSSM)
American College of Sports Medicine (ACSM)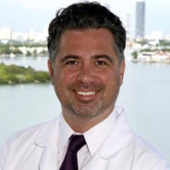 Duncan Ross, Ph.D.
Founder,
Kimera Research Labs
Duncan Ross Ph.D trained in the University of Miami's hematology transplant department under Krishna Komanduri MD and Robert Levy PhD. Dr. Ross is a published scientist with works that appear in a number of the most respected peer-reviewed transplantation journals in the industry including: The Biology of Blood and Marrow Transplantation, Blood, and many more. He was an assistant professor of immunology at Miami Dade College and completed PhD coursework in Biochemistry as well as Immunology studying rejection in allogeneic stem cell transplantation and protein expression and purification. Dr. Ross began his career subsequent to his father's death due to Acute Myeloid Leukemia. His scientific work then focused on cancer and mechanisms of controlling inflammation using chemotherapeutic, regulatory T cell, and now, mesenchymal stem cell methods. Dr. Ross is joined in the laboratory by a team of scientists, engineers, quality assurance and medical device experts.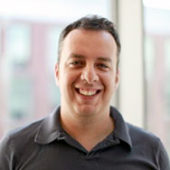 Dmitry Shvartsman, Ph.D.
Director of Stem Cell Program,
Cellaria
Dr. Dmitry (Dima) Shvartsman was born in Kharkov (Ukraine) and graduated (Ph.D. in Neurobiology, 2008) from Tel Aviv University Life Sciences Faculty (Israel), focusing his studies on the biophysical properties of the cell plasma membrane and dynamics of interactions between membrane proteins and membrane domains. He received the Long-Term Postdoctoral Fellowship from the European Molecular Biology Organization (EMBO) to conduct his postdoctoral studies in Cell and Tissue Engineering laboratory at Harvard University School of Engineering and Applied Sciences (SEAS). He continued his work at Brigham Women's Hospital (BWH) in Boston at the field of nanoparticle formulation and targeting. After that, Dmitry joined Harvard Stem Cell Institute (HSCI) as Senior Research manager, overseeing the production of insulin-secreting beta cells from pluripotent stem cells and managing technical group within. Dmitry is married, has two children and resides in Sudbury, MA.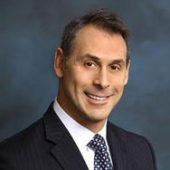 Douglas Spiel, M.D.
Interventional Pain Specialist and Board Certified Radiologist,
Spiel MD
Dr. Spiel's unique clinical background has enabled him to view the practice of interventional pain through a broader perspective. By elevating the diagnosis and treatment of those in pain to an art form, he is uniquely qualified to blend the objective and subjective components of a patient's signs and symptoms to arrive at a plausible and treatable diagnosis.
Dr. Spiel is widely recognized as an expert in numerous treatment modalities and has lectured both throughout the country and abroad. He credits the numerous physicians worldwide that he has studied with as providing the necessary scaffold to build his current diverse skill set. Dr. Spiel believes that "only by cross training with multiple specialties can any one physician bridge the necessary knowledge required to effectively treat the complexities of the human condition."
The American Board of Interventional Pain Physicians examines and certifies appropriate applicants as diplomats in interventional pain procedures. Dr. Spiel was the first among the few radiologist and interventional pain specialists on the list to be certified by this prestigious board.
SPECIALIZES IN
Endoscopic Laser Discectomy
Selective Nerve Root Blocks
Transforaminal Epidurals
Facet Joint Blocks
Caudal Epidurals
Sacroiliac Joint Injections
Interlaminar Epidurals
Radiofrequency Ablation
Discography
Pulsed Radiofrequency
Medial Branch Block
Dorsal Column Stimulator Trials
Intradiscal Injections
Joint Injections
Sympathetic Blocks
Vertebroplasty
Optimesh
Reflex Sympathetic Dystrophy
Complex Regional Pain Syndrome
CREDENTIALS
Diplomate American Board of Radiology
Diplomate American Board of Interventional Pain Physicians
Fellow of Interventional Pain Practice
Diplomate of the Royal College of Physicians and Surgeons of America
Diplomate American Academy of Pain Management
Member International Spinal Intervention Society
Member American Society of Interventional Pain Physicians
Member World Institute of Pain
Member American Academy of Pain Medicine
CERTIFICATION
Endoscopic Laser Discectomy
Biologic Vertebral Augmentation utilizing Optimesh
Accredited instructor for CME Category 1 courses for Maricopa
Integrated Health System
Spinal Cord Stimulation- Trials/Permanent
Cervical/Thoracic/Lumbar Interventional Injection Techniques
Radiofrequency Lesioning
Discography and Intradiscal Therapies
Epiduroscopy
Endovenous Laser Treatment
Coblation Nucleoplasty
Basic and Advanced Cardiac Life Support
MEMBERSHIP
International Spinal Intervention Society
American Institute of Ultrasound in Medicine
American Society of Interventional Pain Physicians
American College of Sports Medicine
New Jersey Society of Interventional Pain Physicians
American Academy of Pain Management
American Academy of Pain Medicine
AWARDS
American Medical Association: Physician's Recognition Award forContinuing Medical Education
APPOINTMENTS
Executive Board Member: American Board of Interventional Pain Physicians
National Course Director, Interventional Pain Institute
Editorial Board, Pain Physician Journal
Past Faculty: Listed in Alphabetical Order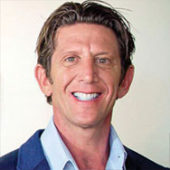 Scott Brandt, M.D.
Medical Director,
ThriveMD
Education
Dr. Scott Brandt completed his undergraduate studies at the University of Michigan at Ann Arbor, and attended medical school at Wake Forest School of Medicine in Winston-Salem, North Carolina. He then completed his anesthesiology residency training and internship at the University of Illinois and Michael Reese Hospitals in Chicago.
As a resident in anesthesiology, Dr. Brandt specialized in interventional pain management. He continues to stay at the forefront of medical innovations that provide longer lasting solutions for acute and chronic pain as well as treatments to help reduce the risks associated with the diseases of aging.
Founding ThriveMD
Since 2002, Dr. Brandt had been a part-time resident in Vail, CO. His passion for further advancing the field of pain management, coupled with the progress in Regenerative Medicine, led to his decision to move full-time to Vail in 2012 with his wife and 2 daughters. Vail's aging active population is a perfect fit for his state-of-the-art Regenerative Medicine practice, ThriveMD.
ThriveMD offers a variety of treatment options, including autologous stem cell treatments and bioidentical hormone replacement therapy. Dr. Brandt has built a clinic with an emphasis on preserving and improving joint, soft tissue and spine function so that patients can continue to enjoy all that Colorado has to offer. As his practice continues to gain recognition, patients routinely travel across the country to be seen by Dr. Brandt at ThriveMD.
Regenerative Medicine Specialty
Dr. Brandt has trained extensively across the country and become one of the nation's top stem cell therapy doctors. He provides the highest quality patient care available. He continues to incorporate advancements in the field as rapidly as scientific evidence supports their addition. This combined with Dr. Brandt's unparalleled expertise in minimally invasive injection techniques, utilizing live image guidance, allows him to ensure the best biologic solutions are placed exactly in the areas of tissue damage.
This is especially pertinent when injecting sensitive areas around the spine and degenerative joint anatomy. Stem cell treatments for degenerative disc disease are showing great promise in relieving disc related low back pain. Dr. Brandt has over twenty years of experience injecting thousands of spinal discs. This experience allows him to safely and accurately employ state of the art regenerative therapies to the disc segments. Dr. Brandt is confident that stem cell therapies for lumbar discs will greatly diminish the number of spinal fusions that are being performed for the treatment of disc related low back pain.
Dr. Scott Brandt has also embraced bioidentical hormone replacement therapy (BHRT) as an important part of disease prevention, health and wellness. As ThriveMD's hormone doctor, Dr. Brandt has undergone extensive training by Dr. Neal Rouzier, the leading authority on BHRT. Dr. Rouzier is the author of How to Achieve Healthy Aging. Bioidentical hormone replacement therapy not only combats the diseases of aging and improves global wellness, but it has been demonstrated that patients who are hormonally optimized report better outcomes following stem cell treatments and surgical procedures.
Dr. Scott Brandt is actively involved in research and publication, giving instructional workshops, and presenting on a variety of subjects in Regenerative Medicine and Advanced Interventional Pain Management. He is a current instructor for Boston Biolife. He is actively involved with product development and physician proctoring. Clinical research during his career has focused on the safety and efficacy of novel devices. These efforts have resulted in the development and patenting of innovative medical technology.
Dr. Brandt is licensed in the state of Colorado. He is Board Certified by the American Board of Anesthesiology and has been an International Spinal Injection Society Instructor. He has been a member of the American Society of Anesthesiologists, Colorado Society of Anesthesiologists, International Spinal Injection Society, and the American Board of Pain Medicine.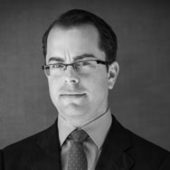 Andrew Ittleman, Esq.
Founder & Partner
Fuerst Ittleman David & Joseph, PL
Andrew Ittleman is a founder and partner of Fuerst Ittleman David & Joseph in Miami. Mr. Ittleman focuses his practice on providing comprehensive representation to highly regulated businesses, including clients operating in the biotechnology, financial services, and international trade industries, and frequently lectures on these subjects for industry trade groups. Mr. Ittleman represents a wide array of domestic and international companies operating in the regenerative medicine industry, including physicians, hospitals and medical device manufacturers, and has litigated extensively against the FDA regarding the scope and reach of the Part 1271 regulations.
Andrew graduated from the University of Miami School of Law in 2004 and is admitted to practice law in the state of Florida as well as numerous federal district courts and courts of appeal nationwide.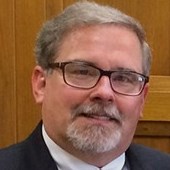 Doug Oliver, MSW
Founder / Executive Director,
The Regenerative Outcomes Foundation
CEO, Regenerative Outcomes, LLC
Doug Oliver is a Nashville, TN stem cell patient, who in 2015 received bone marrow-derived autologous treatment that restored his vision, taking him from 10 years of legal blindness to receiving his drivers' license in December of that year. He also holds a Master's Degree in Social Work from University of New England, and carries over 25 years' experience in medical ancillary services, regulatory compliance, and 10 years' experience in web program, database design and IT security in medical and governmental settings.
Because of his amazing outcome, Doug's story has been heard by millions of people around the globe. In April of 2016, U.S. Senator and Senate H.E.L.P. committee Chair Lamar Alexander (R-TN) invited him to Washington, D.C. serve as an advisor to help him craft key provisions within the 21st Century Cures Act, and serve as an advocate for its passage. Doug met with numerous senators and representatives from both sides of the aisle, to gain support for the bill, which passed with overwhelming bipartisan support and was signed into law in December of 2016. As a result of his success, Doug is largely credited on Capitol Hill for "rescuing" the Regenerative Medicine provisions within the "CUREs" bill.
He retains ongoing relationships with legislators and top regulatory officials.
In September 2016, Doug established Regenerative Outcomes to educate, guide and consult with cell therapy providers, helping them achieve and maintain FDA compliance and establish ethical and robust frameworks for promotion, patient engagement, informed consent, and outcome optimization.
Later that year, he also founded The Regenerative Outcomes Foundation, a non-profit charity with the mission of providing direct grants to patients eligible to participate in R.M.A.T. clinical trials, supporting "Patient Ambassadors", and researching the impact that outside have on patient outcomes.
Most recently, Doug created another private company, RMAT Spectrum Services, dedicated solely to helping provider become sponsors of FDA RMAT clinical trials.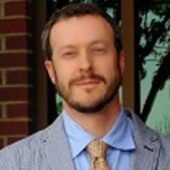 Matthew D. Pouliot, D.O.
Board-certified in Pain Medicine and Physical Medicine & Rehabilitation,
Front Range Pain Medicine
Dr. Pouliot is board-certified in Pain Medicine and Physical Medicine & Rehabilitation and practices medicine with a special emphasis on chronic spinal and orthopedic pain. Prior to joining the staff of Front Range Pain Medicine, where he practices physical medicine and rehabilitation, he held similar positions with Rocky Mountain Associates in Orthopedic Medicine in Johnston, Colorado, and Pain Partners MD in Lafayette.
A graduate of the University of Health Sciences College of Osteopathic Medicine in Kansas City, Missouri, Dr. Pouliot later completed both his fellowship in pain medicine and his residency at SUNY Upstate Medical University in Syracuse, New York. He is a member of several professional organizations, including the International Association for theStudy of Pain (IASP) and the North American Spine Society (NASS), and has given numerous presentations on advanced interventional pain techniques.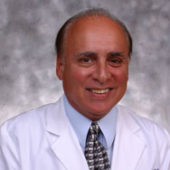 Joseph R. Purita, M.D.
Arthroscopic & Orthopaedic Surgery, Regenerative Medicine,
Boca Raton Orthopaedic Group
Dr. Joseph Purita, a pioneer in the use of Stem Cell and PRP therapy for orthopaedic conditions, graduated from Georgetown University Medical School and served his surgical internship at the University of Florida Medical Center. Following completion of a residency in orthopedic surgery at University of Miami-Jackson Memorial Hospital, where he served as chief administrative resident, Dr. Purita joined the Boca Raton Orthopedic Group in 1981.
Dr. Purita Is a Member Of The Following Professional Organizations:
Southern Medical Association
Palm Beach Medical Society
Broward County Medical Society
Palm Beach Orthopedic Society
Florida Medical Association
International Cartilage Repair Society
American Academy of Regenerative Medicine (founding member)
American Academy of Anti-Aging
Dr. Purita Is a Member of The Following Fellowships:
American Academy of Orthopedic Surgeons
American College of Surgery
American Academy of Pain Management
Board Certified in Anti-Aging Medicine
Dr. Purita Is Board Certified by The Following Organizations:
American Board of Orthopedic Surgery
American College of Orthopaedic Surgery
American Board of Pain Management
American Board of Regenerative Medicine
Dr. Purita is an instructor and proctor of surgeons in the use of lasers in arthroscopic and orthopedic surgery at a variety of area hospitals.
US News And World Report's "Top Doctors"!
The Physicians at Doximity named Dr. Joseph Purita one of US News and World Report's "Top Doctors"!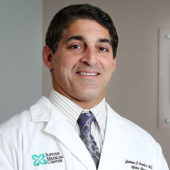 Gaetano Scuderi, M.D.
Orthopedic Spine Surgeon and Clinical Assistant Professor of Orthopaedic Surgery,
Stanford University
Dr. Scuderi is a board certified orthopedic surgeon who has been treating patients with joint and spine related pain for 20 years. Dr. Scuderi has published extensively on research related to biomarkers for the accurate diagnosis of pain in an effort to improve outcomes of post traumatic musculoskeletal conditions.
He recently completed a 4-year appointment as a clinical professor at Stanford University. Dr. Scuderi received his MD from SUNY at Buffalo and residency at the University of Miami. He also completed a spine surgery fellowship at the University of California, San Diego. Dr. Scuderi has published over 45 scientific articles and has lectured both in the US and internationally. He is a fellow of the American Academy of Orthopaedic Surgeons. Dr. Scuderi has discovered a unique pain protein associated with musculoskeletal injury and has published extensively on this. Additionally, he holds patents related to its use. He has recently developed a unique autologous bio-identical therapeutic to enhance the body's ability to protect itself following an injury. This protease inhibitor, which is unique to the body's protection system, both dissociates the pain as well as protects the surface of the cartilage following an injury. His team has designed a unique system to concentrate and deliver this bio-identical to an injured area of the body.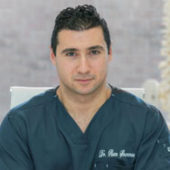 Riam Shammaa, M.D., CCFP(SEM)
Medical Director of Regenerative and Translational Medicine,
Canadian Centres for Regenerative Therapy
Lead Scientist,
National Institute for Stem Cell Research
Dr. Riam Shammaa is an expert in musculoskeletal and regenerative medicine and lectures at the University of Toronto on Musculoskeletal diseases. He is an expert in pain medicine and serves as the Medical Director of Regenerative and Translational Medicine at the Canadian Centres for Regenerative Therapy. He is also the lead scientist at the National Institute for Stem Cell Research. Dr. Shammaa is a pioneer in autologous and allogeneic stem cell treatments. He conducted the first spinal discs repair using stem cells in Canada. He has lent his expertise to the National Ballet of Canada, Toronto Marlies, Toronto FC, Mississauga Steelheads, Ryerson Rams, and Ontario Women's Hockey Association. He was also appointed as lead physician at the 2015 Pan Am games and currently serves as the lead physician for Boxing Ontario. Dr. Shammaa worked in research at McGill University and in the private sector before completing his residency in family medicine at McGill University. He went on to complete a fellowship in Sports medicine at the University of Toronto. He is a national expert on regenerative medicine and had given several lectures across Canada on stem cells, Translational medicine and regenerative medicine.